Surmodics, a leading medical device company based in Ballinasloe, started their sustainability journey with The City Bin Co. in February 2021. Surmodics identified the need to increase recycling rates and their sustainability efforts, whilst reducing costs, and therefore kickstarted The Zero Project.
---
 Prior to February 2021
Surmodics was using a number of 1100 litre bins for both general waste and recycling. The bins were many different colours and therefore caused confusion in terms of waste segregation, which resulted in low recycling rates.

 

Surmodics' site is rather large, and was producing enormous amounts of grass, which was being tended to by a tractor lawn mower. This was resulting in high carbon emissions.

February 2021
Surmodics kickstarted their sustainability journey with The Zero Project.

 

The City Bin Co. installed Front End Loader (FEL) bins onsite. The type of waste generated by Surmodics is dry industrial and therefore a good fit for the FEL bins. The waste is removed and transported to a recycling depot where it is sorted and either reused or recycled, helping Surmodics divert waste from landfill.
Surmodics replaced outdoor and indoor fluorescent lights with LED lights. This has resulted in a total carbon saving of 25.5 tonnes, and there is no longer any fluorescent gas or lamps waste to dispose of.

 

Introduced light sensors that control 95% of Surmodics' lights, ensuring lights automatically switch off during quieter times, saving energy.

 

Surmodics started working towards going paperless by introducing an e-signature, creating a paperless accounts payment system.

 

Surmodics provided keep cups and re-usable water bottles for their employees, cutting down on unneeded waste.

 

March 2021
The City Bin Co. carried out a waste audit onsite and put a plan together to ensure segregation of waste.

 

Surmodics have stopped working with a landscape gardener for their few acres of grass, and introduced the Mobot, an electric robot lawnmower. The Mobot does not waste grass and does not require fuel to cut the grass. This has resulted in carbon savings of 0.6 tonnes for the site.

 

Ongoing 2021 Plans
Ensuring the Zero Project standard is held amongst employees – providing training to make the team more aware of the impact of their business moving towards zero waste to landfill.

 
---
Check out other case study videos…
https://www.youtube.com/watch?v=_QrNPue0XM8
https://www.youtube.com/watch?v=qXHkX07uLvE
And if you would like more information on the Zero Project, please contact John Farrell, The City Bin Co. email john@citybin.com
Or for a quote for your own project get in touch with us here.

No matter how much we try to reduce food waste there will always be scraps left over such as banana skins and eggshells. Composting is the perfect way to get the final use out of your food.
---
Benefits of composting
Cut waste expenses and save money
On average, food, and garden waste accounts for over 1/3 of household waste. By preventing food waste and composting what you can, you will save money on your waste bill.
Create healthy soil
With compost, you are creating rich humus, a magical ingredient when it comes to creating healthy soil. It is full of nutrients and life and is even better when you make it at home. Compost improves soil fertility, texture, structure, and moisture, which inevitably produces healthier, disease-resistant plants.
Prevent waste and conserve resources
By composting your food and garden waste, you can divert as much as 30% of household waste away from your bin. This diverts waste from landfill, reducing methane gas and therefore reducing the rate of global warming and climate change. By composting your food and garden waste, you also contribute to saving the fuel needed to move the waste around.
Protect biodiversity
Peat moss, taken from Ireland's bogs and peatlands, is commonly used to improve soil. However, these peatlands are home to many species of flora and fauna, many of which are endangered. By making your own compost at home, you will reduce the need to purchase peat moss and therefore help protect the biodiversity of Ireland's peatlands.
By composting at home, you are helping the planet and saving money, whilst giving your garden the magical resource it needs to thrive.
Read our easy guide to making your own compost here.

Homemade compost is a magical resource for your garden and will have your plants thriving, whilst also helping to keep your waste costs down. According to StopFoodWaste.ie, "composting is the natural process of decomposition that turns organic materials like garden waste and vegetable food scraps into a dark, crumbly and earthy smelling material".
Use the compost to improve your flower garden, lawn or feed your growing veggies. Once you get your compost pile started, you will find that it's an easy way to reuse kitchen scraps and other organic materials, whilst helping your garden thrive.
---
How to make compost?
To make the perfect compost you should have a 50:50 blend of materials that are rich in nitrogen and carbon. Nitrogen can be retrieved from grass clippings or other lush, green material, and carbon comes from woody material, such as cardboard or woody stems. For every bucket of green material, you should have the same amount of brown.
Ensure your compost does not have too much nitrogen, or grass cuttings, as this will result in a very smelly compost bin. On the other hand, if your compost has too much carbon, the composting process will be very slow.
Step 1: Combine the green and brown materials.
Place your compost bin directly on the soil – worms and other micro-organisms will speed up the composting process. Chicken wire at the base will keep rodents out. Add an equal mix of green and brown materials.
Step 2: Water your pile.
You want your compost pile to have the consistency of a wet sponge, so you will need to sprinkle water over it regularly. Be careful not to add too much water or the microorganisms in your pile will become waterlogged and drown. If this happens, your pile will rot instead of compost. Your compost pile should feel warm if you reach your hand into the middle of the pile.
Step 3: Stir up your pile.
You should provide your compost pile with oxygen by turning it with a garden fork once a week. Turning the pile will help it compost faster and prevents material from developing an odour.
Step 4: Feed your garden.
When the compost no longer gives off heat and becomes dry, brown, and crumbly, it's ready to feed to your garden. – this will take about 2-6 months. Add about 4 to 6 inches of compost to your flower beds and into your pots at the beginning of each planting season.
---
What to compost?
Nitrogen-rich waste (green):
Grass clippings
Annual weeds
Fruit and veg peelings.
Nettle leaves
Teabags
Carbon-rich waste (brown):
Prunings
Hedge trimmings
Paper or newspaper (loosely scrunched up is best)
Cardboard
Straw
Sawdust
Paper towels
Paper bags
You can also add eggshells, natural fibres (wool or cotton), and wood ash (not too much).
Is there anything you can't compost?
There are some items such as food waste that you should not be home composted as it creates problems with odours, rodents, etc. Here is a list of items that should not be composted:
Diseased plants
Perennial weeds
Cooked food
Citrus (slow to rot and very acidic, which reduces worm activity)
Raw meat
Dairy products
Gloss or colour-printed paper
Ash from coal fires
Cat or dog faeces
Autumn leaves – these are best used to make leaf mould.
Compost is incredibly easy to make, environmentally friendly and a wonderful treat for your garden plants. With just some kitchen scraps and patience, your garden will be thriving. Read about all the benefits of composting at home here.
And here's a great blog post by CulinaryAmbition.com that profiles some excellent kitchen composters for your food waste.
The City Bin Co. was brought onto 45 Mespil Road, a site boasting 50,000 square feet of prime standalone office space overlooking Grand Canal, owned by Davy Target Investments and managed by Melinda Muntean from Knight Frank, in Q3 2020 to manage waste and kickstart the sustainability journey.
This site is a newbuild and currently has 2 active tenants: Amryt Pharmaceuticals and Ellucian.
---
October 2020
The City Bin Co. worked with Knight Frank to organise bin types onsite to cover all the waste streams generated. Today there are 4 bin types in operation; General Waste, Recycling, Glass and Organic.
The City Bin Co. commenced working with the cleaning company onsite (Moore Cleaning Services). We have identified that over 90% of waste generated onsite is recyclable, with a nominal amount of general waste being generated due to current snagging of the building.

January 2021

Bin store installed into the site's basement, with clear labelling on all bins to ensure proper waste segregation, leading to increased recycling rates.

Ongoing 2021 Plans

Training to be provided to all tenants onsite to ensure the building is scoring highly in waste segregation and recycling management.
---
Check out other case study videos…
https://www.youtube.com/watch?v=_QrNPue0XM8
https://www.youtube.com/watch?v=qXHkX07uLvE
And if you would like more information on the Zero Project, please contact John Farrell, The City Bin Co. email john@citybin.com
Or for a quote for your own project get in touch with us here.
The Oval is one of about 12 sites that The City Bin Co. and Knight Frank are working on specifically with regard to waste management. The site is owned by Patrizia AG and managed by Knight Frank. The estate manager on behalf of Knight Frank is Ciaran McDonnell.
In August 2020, The City Bin Co. began working as The Oval's sustainability partner making changes to The Oval's waste management system to increase recycling rates, whilst making cost savings at the same time. We agreed the Zero Waste roadmap to success with The Oval team. The Zero Waste plan has been successfully implemented, and currently, the site has seen an 84% reduction in weekly general waste.
---
August 2020
We introduced colour-coded bins into The Oval's waste storage area, clearly defining waste streams to allow for more recycling. Through carrying out onsite training with Knight Frank and the individual tenants in the building, including Centra, Eirgrid, WeWork, Starbucks, and Tableau, we demonstrated ways to easily reduce waste and recycling.

October 2020
The waste and recycling streams were developed further, and The Oval now have glass bins, organic bins, recycling bins, general waste bins, a baler for baling cardboard, and a cage specifically for WEEE waste. The introduction of more waste streams has resulted in a dramatic reduction in the amount of general waste being presented onsite.

November 2020
We carried out training with Knight Frank's cleaning company, Cagney Contract Cleaning, specifying what goes into what bin and why. This proved to be an outstanding success with even less materials going into the general waste bin.
We engaged directly with Centra at The Oval and separated their bins from the communal area, providing them with direct data on usage, helping them tackle the amount of food waste being dumped by their team. The City Bin Co. have advised Mark Coughlan, and his Centra team about how to save money on waste, portion control and control on food preparation.

January 2021
We engaged with The Oval's landscape company and Knight Frank to build a compost site in the rear garden. By making use of Starbuck's spent coffee grinds and mixing it with some plant and grass cuttings to make compost, The Oval has been developing a beautiful wildflower garden that houses a number of hives of native Irish bees. The compost that they are producing is used to grow flowers that the bees are using to produce honey. Last year there were about 100 jars of honey produced from this site.

March 2021
We started working on organising specific bins for other tenants onsite, such as Eirgrid. Eirgrid wants to see personalized data relating to their waste streams. This system is going live on May 1st 2021 and monthly reporting will follow.

April 2021
The Oval was accredited with The City Bin Co.'s Zero Project Certificate, officially being a zero waste to landfill site.
---
Check out other case study videos…
https://www.youtube.com/watch?v=_QrNPue0XM8
https://www.youtube.com/watch?v=qXHkX07uLvE
And if you would like more information on the Zero Project, please contact John Farrell, The City Bin Co. email john@citybin.com
Or for a quote for your own project get in touch with us here.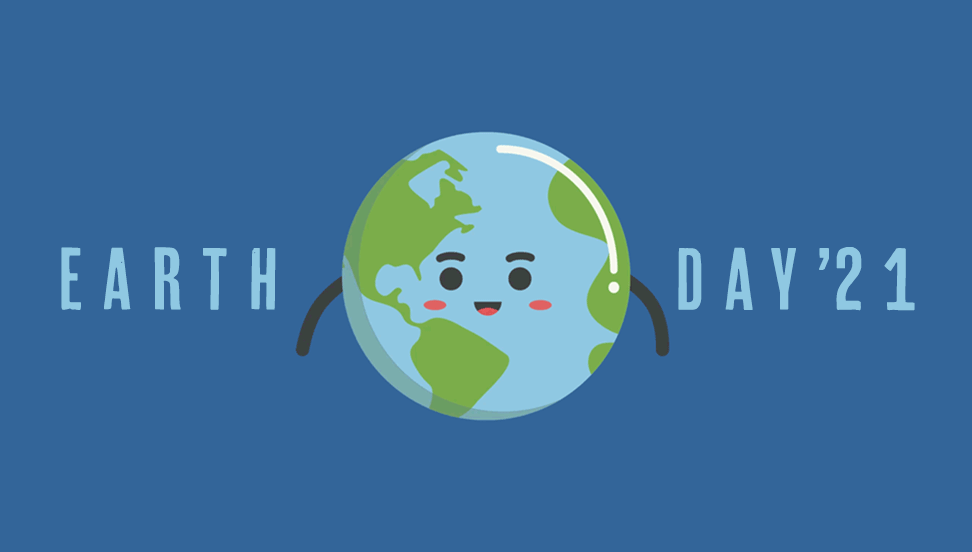 When is Earth Day 2021? What is Earth Day about? How are people celebrating Earth Day 2021?
There are many questions surrounding the ever more important Earth Day! Earth Day 2021 will take place on April 22nd. Earth Day is the international day of environmental action, first celebrated on April 22nd 1970, and now attracts an estimated one billion people every year, from 193 countries.
10 Simple Ways to Mark Earth Day 2021
1. Get Moving
A great way to celebrate Earth Day 2021 would be to start finding transport alternatives that reduce your carbon footprint whilst getting you moving. The fewer cars on the road, the less carbon emissions polluting the air. Help our country reach the EU target of a 50 % reduction in emissions by 2030.
2. Shop Smart for Clothes
We all love treating ourselves to a new outfit every now and again, but we can do so in a way that is environmentally friendly! Buying materials that's already been used is great for the Earth because it doesn't involve new resources. Second-hand clothing apps such as Depop have all kind of beautiful clothing pieces, shoes, and accessories, and you're saving money as well as the planet.
3. Plant Something
Trees clean the air and give off more oxygen (one large tree can supply a day's supply of oxygen for four people), among many other benefits. Plant a tree in your garden – they are proven to increase the value of property by approximately 15%. If you are not ready to commit to planting a tree, another great option is to start growing your own fruits and veggies, which will benefit your health, whilst reducing the amount of fossil fuel emissions spent in having to transport the produce to supermarkets.
4. Tune into Earth Day 2021 Events
Join the world leaders for Earth Day 2021 for three days of climate action from April 20th – 22nd.
On April 20th you can join the global youth climate summit led by Earth Uprising featuring youth climate activists including Greta Thunberg, Alexandria Villaseñor, and Licypriya Kangujam.
On April 21st Education International will lead the "Teach for the Planet: Global Education Summit", which will feature prominent activists, focusing on the crucial role that educators play in combating climate change and why we need transformative climate education now.  On April 22nd "Earth Day" Earthday.org will host its second Earth Day Live digital event at 12pm Eastern Time. The theme of this year's Earth Day is Restore Our Earth™. Tune in to learn more about natural processes, emerging green technologies, and innovative thinking that can restore the world's ecosystems.
5. Conserve Energy at Home
We are all spending a lot more time at home and this has been reflected in the 9% increase in carbon emissions from the residential sector in 2020. There are many small changes we can make in the home to conserve energy. Some simple examples include turning off lights and electronics when not in use, using a timer thermostat, hanging the clothes on the line instead of using the dryer, and using LED lightbulbs.
6. Recycle your Electronics
Recycling your old, unused or broken hairdryers, computers, tablets, phones and other electronics saves natural resources while also reducing pollution. Your WEEE items can be recycled for free at your local recycling centre – see here for directions to ours!
7. Buy Local
Buying local produce and other items reduces shipping distances from food sourced overseas, whilst also supporting local businesses and communities. Food in grocery stores travels on average 1,500 miles to get to you. All that shipping can cause an increase in fossil fuel consumption, carbon emissions and pollution. When you buy locally, produce and other items travel a shorter distance to arrive at your doorstep.
8. Reduce your Paper Waste
Some great ways to reduce your paper waste is opting for online billing, removing your name from unwanted mailing lists to reduce junk mail, and thinking twice before you print something.
9. Use Reusable Bags
To avoid having to purchase plastic bags from the shops, keep a stash of reusable bags in the boot of your car that you can use again and again.
10. Follow the 3 R's
By looking for ways to Reduce, Reuse and Recycle in your home wherever possible you will save resources, energy, and money on your waste bill. We have many fun DIY project ideas like this Garden Bar on our blog and social channels (see below) for both kids & adults!
How will you mark World Earth Day? We'd love to know! Share your Earth Day 2021 plans with us on our social channels!