First, it was "bags for life", chunky doormats and, more recently, clothing such as fleeces, swimwear, and pack-away macs. Now towels made from recycled plastic bottles are to go on sale in the UK for the first time in August – the latest initiative in the war against single-use plastics and the result of a technological breakthrough that has produced a fabric deemed soft and fluffy enough to use on human skin.
The new range of eco-friendly bath towels will go on sale online and at 18 branches of John Lewis in the last week of August, after nearly two years of extensive testing and work with suppliers. The polyester from the recycled plastic bottles accounts for 35% of their content, while the rest is regenerated cotton.
The bath towel is made from about 10 one-liter plastic bottles, and John Lewis says that the use of recycled rather than virgin cotton will save about five tonnes of fabric from going to landfill each year.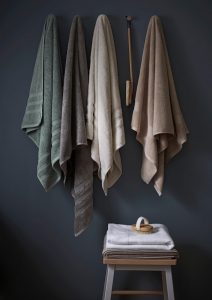 "It took 18 months to develop these towels with our supplier," said Zoe Brady, John Lewis's towel buyer. "Initially, it was hard to create the soft, luxurious feeling we wanted from recycled materials but we got there in the end. The recycled polyester makes these towels quick-drying, and the cotton means they're highly absorbent, too."