When deciding on the skip size you need, you just need to work out how much stuff you have to dump.

Our mini skip is ideal for small domestic and garden jobs – allowing you to easily dispose of waste materials without having to take regular trips to the tip. This skip size often presents the best value for any spring clean-type job. A mini skip is large enough to hold a sofa or single bed, and will fit in a standard driveway, and occupies half a car park space. It can hold the equivalent of 25-35 bin bags. Due to their small sizes, they are unobtrusive and can be placed almost anywhere to be in perfect reach of your working area.
Our standard skip is the size to order if you're clearing out a house for renovation or sale, or a landlord clearing out an apartment after student. This size is the most popular skip used for household and commercial clear outs. It is widely used to dispose of bulky waste and will fit in a single car parking space and it holds the equivalent of 60-75 bin bags.
Our large skip is suitable for household clear-outs /renovations, bulky waste or building projects. This skip is only suitable for light waste as the skip is made of light metal, for example; plastic, paper, timber, metal, light furniture, etc. It holds the equivalent of 100-120 Black Bags.
Don't forget we offer 10% off skip prices for our existing customers. Once you've completed your project and filled the skip, our experienced team will collect and dispose of your waste materials.
Please note: Soil & rubble (as well as other items mentioned here) – are prohibited. And please remember not to overfill the skip!
Brendan Doyle is a great example of somebody who is determined and resourceful. During the Covid-19 lockdown, he used what was around him to replicate his local gym while training for a competition in a sport called Skeleton. This is a very interesting sport where Brendan races down an ice track head first and hitting speeds of over 145kph. Brendan has competed at World Championships and European Championships and is focused on qualifying for the 2022 Winter Olympics. Brendan came across my radar when he shared a tweet with an image showing how he was using his wheelie bins from The City Bin Co. as a support prop while weight lifting.
I reached out to Brendan to find out about the sport and what are the things that keep him focused.
Brendan shared three tips with me that can be applied to any task, dream, or situation.
The one mantra that Brendan sticks to in his training and in his life is: Find a way, not an excuse.
He focuses only on what he has to do today. There is dreaming and doing. He is doing with passion what needs to be done in the moment.
Whatever you are doing, own it. Do it because you love it and believe you can do it. That outlook will see you get to the end goal.
Brendan said he always focused on what he has to do today. He has his big picture goal. He knows what he needs to do to achieve it and focuses only on the present moment.  When his gym closed he had to get creative and use what he could. So, he uses everything from wheelie bins, the wall, and the car to mimic movements he would practice in the gym.
Another World Champion is The City Bin Co.'s own Gary Manogue. Gary is a two-time Super Welterweight Kickboxing Champion, and he shares a similar outlook to Brendan. He focuses on the task at hand, one which can change the results for the better. Gary prepared for his World Championship fights with a fitness regime that involved an eight kilometre run every morning, a work-out in the gym every evening, and in between, he was working for The City Bin Co. He said this gave him an edge over his competitors as working on the bin truck is a very physical job, from pulling and pushing bins to lifting bags and throwing them in the back of the bin lorry.
As with Brendan, Gary turned his dream into reality by hard work, determination, and being in the present to get the task done. When I asked Gary for a takeaway tip for winning, he replied, 'It's all about showing up every day. Show up and do everything you can to win'.
A video meeting is such a simple communication tool. However, I have seen shared images and short clips of video calls that have gone wrong, from people taking the laptop to the bathroom thinking the camera was switched off to family members wandering in the background in their pyjamas (or less).
Most people over the past few months have used video conferencing tools in their workplace. It may be that you have used Zoom, Microsoft Teams, Google Meetup, WhatsApp, or Facebook's Video Rooms. I must admit, when we started back in March doing our sales team video meetings via Microsoft Teams it was a little uncomfortable, not because it was anything negative, but simply because it was new. The software itself was easy to use and very intuitive. The awkward thing at the beginning was being on camera all of the time. At first, when we had our meetings there was a real mix of visuals with some colleagues choosing not to switch on their camera, some with their camera focused on the side of their faces and others where we could only see the top or bottom half of their head. Some had poor lighting quality and others were very far away. In early May, The City Bin Co. Sales Team and department managers participated in a video training course for best practices in video calls presented by Kim Slade from Touch Video Academy. Kim shared some simple skills and tips for having more professional video etiquette and increasing confidence while attending online video meetings. The difference in our video meetings before and after the session with Kim was striking. It was worlds apart. For me, there were three noticeable changes:
Camera positioning: Everybody now has their camera on and has it positioned at eye level. I bought an adjustable laptop stand on Amazon that raised my laptop to the appropriate height. Some people used a stack of books to get the camera where it needed to be. A secondary plus in having the screen and camera at eye level was that I was sitting up correctly in my chair giving me a more supportive sitting position. Now when the team is attending an online meeting, we are all at eye level and it feels more natural. We all look like we could host the Evening News!
Good Lighting: Another learning is lighting. Before, I used to sit with a window behind me. This created a very dark image on the screen for others. Now I sit in front of a window which gives great natural light. One of my colleagues uses a lamp that gives the same effect. When you have good lighting on your face you can be seen clearly.
Microphones Manners: I use a Jabra Evolve 65 headset as it has noise cancelling technology built-in. This is very handy as my wife and children are going about their daily lives too. At the end of the day, the kids must be able to play and I have to make sure that the customers have a great experience. Also, using the microphone mute button is so important to everybody on the call when somebody else is speaking.
The one thing that does give me a laugh on video meetings is the numerous times a day I hear 'You're on mute!' or "Sorry, go ahead, no, you go ahead!"
Although there were some online moments posted around the world of meetings with people caught in embarrassing situations while attending their work meetings, personally and thankfully, I haven't experienced them. Simple guidelines such as the above can help to keep both the communication and the video professional.
To summarise, keep the camera at eye level, get the lighting right so people can see you, and use the mute and unmute button. Also, I suggest you find a quiet space to sit, shut the door, and make sure you have an uncluttered plain background. You want the other person on the call focused on you and what you're saying and not distracted by all of the things that you have in the background. You have to think of a video meeting as you would a professional face-to-face meeting and conduct yourself as you would if you were present with the people in the same room. The same first impression counts and, on video, every impression counts, particularly when it can be recorded and shared.
Over the first half of 2020, there have been major changes for so many people, for example adjusting to changes in the workplace due to Covid19. All over the world many people have lost their jobs or been laid off. Others have had to move their workplace from an office environment to their home.
In mid-March, I received a call to say we must all work from home. While my colleagues, who are very much on the frontline, continued to make sure The City Bin Co. customers' continued to receive an amazing bin collection and skip hire service, there were fast changes implemented for the team at our HQ and our Dublin Office. The City Bin Co. HQ has always been open-plan, where up to 40 people work side-by-side. We also have a super canteen for having a chat and coffee. Now three months into what is called the 'new normal', the office team is fully remote, working from home and continues to support the frontline heroes collecting the bins daily.
Personally, I have always loved the idea of working remotely. I felt there could be freedom that would allow me to do good work from anywhere in the world. Little did I know that anywhere would be the spare bedroom at home! The reality is that working from home comes with some adjustments. The main areas that are notably positive for me are my new commute, my new office, my lunch breaks, and the new communication tools. Just to keep it balanced, there are new distractions too.
The new commute
Working from home has brought a new set of advantages as well as disadvantages. At first, I was very productive but as the months went on I would have days where I lacked motivation. As my family space and workspace are one, I now deal with this by making sure I go for a short walk before and after work. This signals both the start and the end of my work time and the beginning of family time.  I pretend it's my commute to work, and mentally that's exactly what it is.  This has lifted my spirits and gotten me refocused.
The new office  
I have cut out the daily drive which saves on time and petrol. Nowadays, my commute is a 5-second commute from the kitchen to the spare room when I get back from my walk.  I have converted the corner by the window into my home office. Some of my colleagues don't have the luxury of a spare room and make do with the kitchen counter or any other quiet spot they can find in their abode.
Lunches and breaks
I have better lunches as I am with my family and we are cooking at home. Before, I would pop out to get a takeaway or something fast, eat it quickly and then head back to the office. I was also snacking in-between meals. Now lunch is a really enjoyable part of the day, where I am sitting down with my family and eating very healthy food. This is a good switch off from the work environment, although I also miss the 'in-person' meetings and face to face interactions with colleagues and customers that would happen over lunch.
The new tools 
I never thought I would find myself on so many webinars and video meetings. I have become accustomed to video conferencing for meetings with customers and colleagues. What was once an awkward communication tool is now very familiar and effective.
We have also had to get used to video conferencing for our internal meetings and our Sales Team relies on them for their sales meetings. The great thing is meetings happen on time and there are no traffic jams en route!
The new distractions
I never thought in a million years that my kids would be interrupting a work meeting to ask me to play a game or help them with their schoolwork. Or be simply checking in on me to have a look at what I am doing, but the reality is that this is the new distraction. Before it might have been a quick coffee chat with a colleague, now it's the kids. It's also great that they see what Daddy actually does at work. Customers and colleagues also get to see a bit about the 'real me', not just the 'work me'.
I count myself as one of the lucky ones able to work and support a service that is essential. No matter where I do my work, the most important thing is that I get to be part of a team that is working together remotely to make sure a job is done well and the service goes smoothly. The change to remote working happened fast and, although in the beginning, I was anxious and unsure of how it would pan out, the truth is that in times of change we adapt.
Each new day using new tools or working from a new environment we gain confidence and it builds us as individuals and as a team.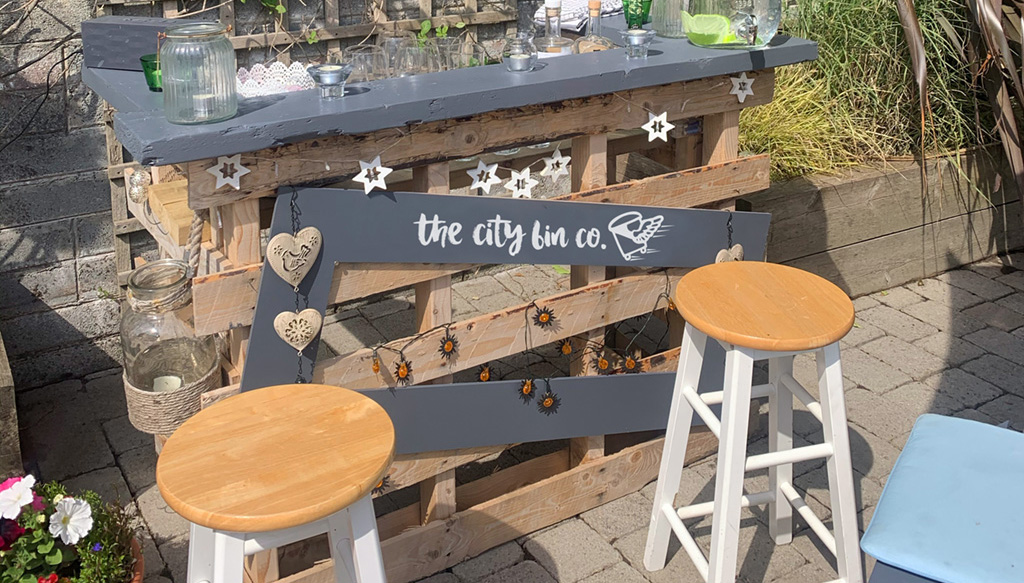 Who doesn't love a bit of DIY on a Saturday afternoon? Not only that, but this one will allow you to sit back and relax at the bar after a hard day's work. Yes, that's right, a BAR!
Team member, Caoimhe Sheridan, takes us out of the (home) office and into the garden with this fun and functional DIY bar.
To build this upcycled bar all you will need is:
2 crates
2 planks of wood (longer than the width of the crates)
Screws
A drill
A saw (preferably electric)
Fun decorations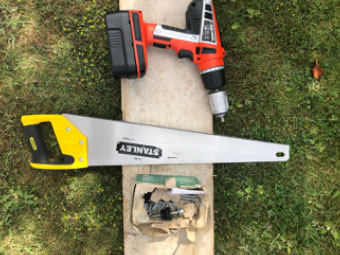 Step 1: Simply cut one of your crates in half.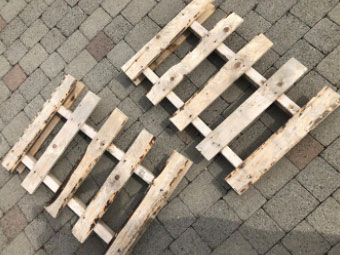 Step 2: Position the full crate on its side, slotting the half crates into each side to build the bar structure. Drill at least two screws into either side of the bar.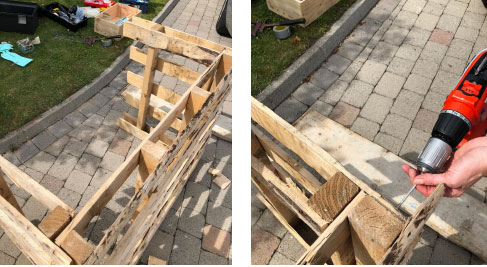 Step 3: At this point you can sand down your wood, but this is optional. Once the bottom structure is sturdy, add one plank of wood on top, screwing as you go. Next, cut the other plank in half and attach to the two sides of the bar.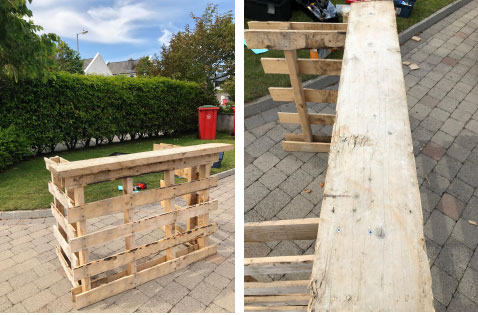 Step 4: Spice up your bar with any decorations you can find. We painted the bar counter and a recycled cardboard frame, adding fairy lights and candles to finish it off.
Step 5: Finally, don't forget to send us on a snap of your creation to marketing@citybin.com. You can also share to your favourite social media channels!
If you have ever undertaken any type of home renovation job before, you will know that even a seemingly minor DIY project is no walk in the park. Bearing this in mind, and to make the job more efficient and as easy as possible for yourself, we highly recommend hiring our skip hire Dublin service. Not only can a skip help make your life easier, but you could be helping the environment too! Read more to see how our skip hire Dublin offers are the best solution…
Space
Home renovations demand quite a lot of space. Not only do you need room for tools, equipment, and the like, but you also need to move any waste materials out of the way. Instead of letting clutter pile up, a skip will allow you to clear out the junk as you go, creating more space for you to work away, instead of having to pause every 10 minutes to clear space. Having a skip will help keep your space organised, especially if you want to hire a skip for a garden renovation. However, even if you're renovating your living room, it still makes things a lot easier to have one place to pile your bulkier waste. Our skip hire Dublin offers come in two sizes – perfect for many types of jobs.
Safety
Tying in closely with our last point, renovations are messy by nature and sometimes quite unpredictable. The debris from renovations can include pipes, plaster and other sharp materials, which can make it arguably a lot more dangerous than typical garden waste. You do not want these waste materials lying around for someone to trip over. Our skip hire Dublin service for your DIY renovation will make things a lot easier, and safer, by removing the most dangerous elements from your immediate area.
We will help you choose the correct skip size to best fit your need
There is nothing more annoying than running out of space for your waste in the middle of a clear-out, or renovation. Here at The City Bin Co., we have different skip sizes, and our skip hire Dublin team will be able to guide you in deciding the best skip hire fit for your job. We have mini skips for smaller jobs and larger skips for bigger projects. This way, you won't need to worry about running out of space during your skip hire duration, and similarly, you will have peace of mind about getting the cheapest skip hire solution suitable.
It's quick and effortless to get rid of waste when you're done
Home renovations and clear-outs are tough enough, without having to worry about what you're going to do about all the waste acquired. Without claiming that hiring a skip will eliminate the clean up entirely, having one receptacle to put all your waste into, will keep the effort required to a minimum. Your clean-up will be done in no time.
As a bonus, when you hire a skip from The City Bin Co. you can rest assured that as many materials as possible will be recycled. We have committed ourselves to ultimately diverting 100% of waste from landfill, so none of your waste will end up there! You can click here to find out more about our skip hire Dublin service.
Last-update of the article: 07/02/2020.