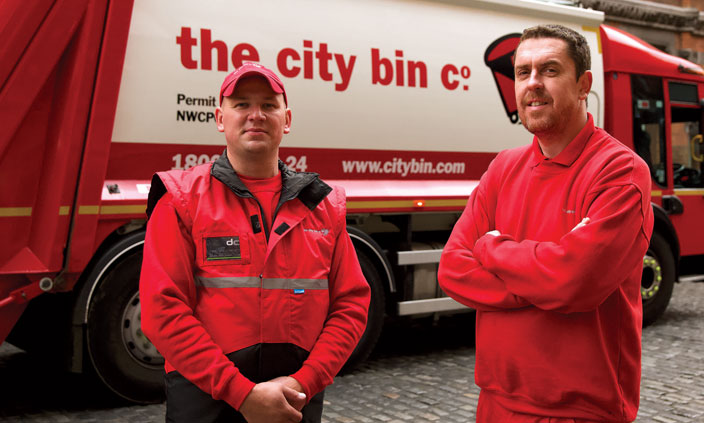 A Day in the Life with Trevor

They're usually done before the customers even wake up. So, what does a typical day look like for your local binman? We caught up with Trevor Cross from our Dublin team to find out…
So, Trevor, what time did today's shift start?
TC: The alarm went off around 4.30am this morning. Today was a 5.30 start as we were doing a commercial route. If it was a domestic day, we'd start collecting after 6.30. Yesterday took a bit longer than usual as we helped out another crew in our area.
Are the early starts the worst thing?
TC: No, not really. You get used to them and it's great to start early and finish early. I love having more time at home with the family, especially with the brighter evenings. Yesterday I took the young fella off for an ice cream when I got home, it's great to be able to do that. The worst thing can be traffic, or impatient drivers! Sometimes people can get a little unreasonable, but mostly folks understand that we're just doing our job.
I'm not sure everyone would get used to those early alarm calls! How long have you been with The City Bin Co. & what keeps you there?
TC: I've been driving for about 12 years I think, I'd have to check to make sure! What keeps me here? It's a mix of things really – I like the people I work with, everyone gives each other a dig out when it's needed. We've a good crew in the office looking after us and, of course, the customers. It's odd to think that they'd become a part of your day, but you really do get to know lots of them and their needs, especially the older customers. Some of them need a bit more help getting the bins out, so we nip in to get them. Different people have different challenges – and we'll always do a bit extra when we can.
Covid, as well, was a real eye-opener for us. Once we were recognised as an 'essential service' we really saw a huge response from our customers. There were signs in windows, kids' drawings stuck on bins, 'thank yous' in chalk on the driveway – all sorts… even Easter eggs! It was important though because it showed us that those customers were doing their bit to keep us safe and that they trusted us to do our bit too.
Are you happy driving, or is there more you want to do?
TC: I'm at my happiest behind the wheel, but there's plenty of other things to keep me busy apart from the day job. A group of us did a computer course through work a few months ago which I thought I'd struggle with, but it was great to do it as everything is going computerised now. We even got a free laptop as part of it which was fully set up for me with Zoom and Word and all the bits I would need. Since then, we went and a First Aid Responder course online which was really great to do. While I might not be an expert in a medical emergency, but it gave me great confidence to know how to respond if I come across an accident when I'm out on the road! There's someone in the business who organises these courses for us, so there's no excuse not to do one or two.
And we're always adding new services like skips and junk collection, which keeps things interesting. Never a dull moment!
Finally – I asked you earlier what the worst thing was. I think it's only fair to ask you what the best part of the job is…
TC: The best part? Definitely the customers… the young kids waving to us always makes our day! We even have our own City Bin Juniors club for the little ones, so hopefully, they'll grow up to be City Bin customers!
Interested in working with us? Check out our available roles here.