WATERLOO EXCHANGE is located at Waterloo Road Dublin 4. It is 55,000 sq. feet and is a cornerstone building at the junction of Waterloo Road and Baggott St Dublin 4. Waterloo Exchange is the second Davy site that Knight Frank has chosen to work with The City Bin Co. on having introduced us to 45 Mespil Road last year, culminating in a positive Earth Day 2021 success story.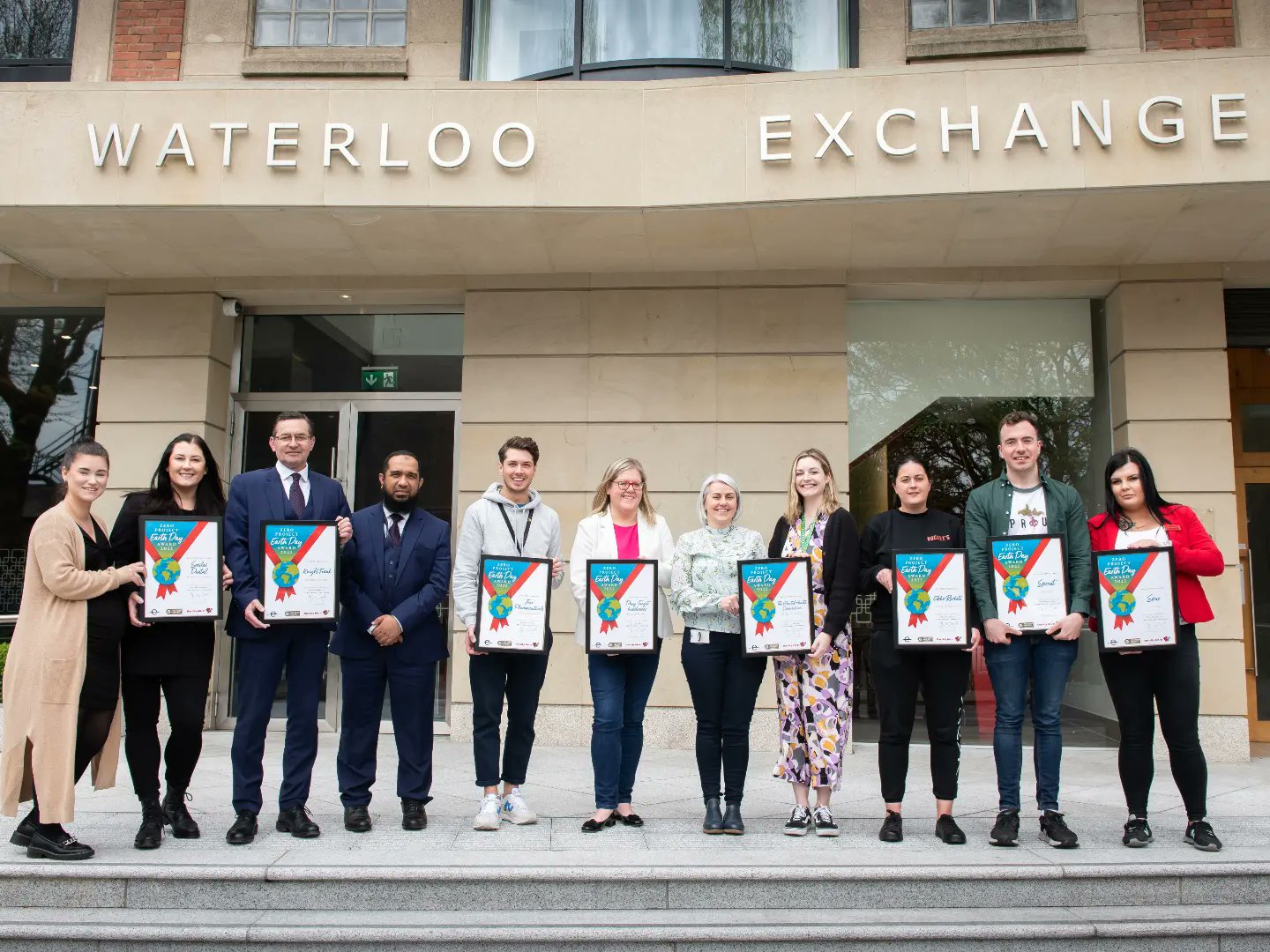 Why start on this sustainability journey?
Knight Frank enjoyed a successful Earth Day in 2021 with another one of the Davy portfolio at 45 Mespil Road Dublin 4. Alison O Neill (Head of Property and Facility Services) introduced The City Bin Co. to the Estate Manager Martin Carroll as they felt a different approach to waste management was needed. The journey has been ongoing for the last 3 months and has been consistent in its expectations across learning excellence and innovation both within the main building with its tenants and the wider building that has branded individual high street stores. The project lead within Knight Frank is the building manager Martin Carroll. Martin has a vast wealth of knowledge of building management and he wanted to use this to work with a waste company that could lead a change in the strategy of waste management for the building. A number of months ago having changed waste contractors to The City Bin Co. Martin wanted to implement more sustainable waste management practices. Before engaging with The City Bin Co. all waste was stored in one binstore area. Anyone could effectively use whatever bin they wanted.
Some of these initiatives for change were…
A townhall meeting was arranged in January 2022 with both the corporate tenants in the building along with the highstreet traders. The key focus of this meeting was to get agreement for a way forward from all parties that this needed to change and everyone needed to take personal responsibility for their own waste streams.
Once the relevant parties were onboard with the process, all commercial tenants came onboard with The City Bin Co. and individual accounts were set up.
All commercial tenants agreed a collection schedule that would suit their own businesses.
All parties concerned agreed to take a full set of bins for general, organic and recycling waste streams. As a result of implementing lockable bins everyone could see what actual waste they were generating along with seeing what was their actual recycling rate.
All parties agreed to start using organic bags for food waste and again to use their own bins.
All parties now have colour coded lockable bins.
Who was involved in setting up & driving the project?
The project was initiated by Knight Frank on behalf of the client Davy.
The results?
All cardboard and plastic generated on site are 100% recycled.
The corporate food waste collections are up over 100% on last year with the individual high street stores now have greater visibility of waste habits.
The setting up of the Green Team now has a purpose and the key recycling messages are shared at every opportunity with new and existing team members.
Everyone pays for their own waste. The more they recycle and the less food waste they generate – the less they pay.
What next?
To continue with the recycling effort and install a baler in by end of 2022.
To share the learning of recycling with all stores on a quarterly basis in a townhall environment.
To continue to demonstrate that there is a cheaper, and greener, way to handle waste.