What is the Circular Economy?
In July 2022 the Government introduced the Circular Economy Act to align Ireland with Global & EU standards.

Building a "Circular Economy" means creating longer-lasting products that can be reused, repaired, and upgraded – thus reducing waste and protecting the environment. Science has shown the 'take-make-waste' economic model has been harmful. A consensus has formed around adopting a Circular Economy approach as the best solution to its problems. This shift will affect everything from product design to finance and technology, and it's especially important in waste management.

—
Embracing the Circular Economy principle helps businesses in three main ways: it reduces environmental impact, saves money, and boosts brand reputation. Overall, it's both environmentally responsible and economically advantageous for businesses.

—
What are Ireland's Targets?
The Climate Action Plan 2021 (CAP21) sets out Ireland's plan to achieve a 51% reduction in greenhouse gas emissions by 2030 and carbon neutrality by 2050.



—
How will we reach the targets?
Government is making it mandatory to separate commercial recycling, organic and compost waste (like at home).
Ensure all waste companies use pricing policies that incentivise recycling i.e. all collectors will be required to charge on the basis of "polluter pays".
Prioritise reusable packaging over single-use packaging.
Support initiatives and fund projects related to the Circular Economy.
Enhance regulations to promote the safe and sustainable reuse of materials.
Making waste more expensive by introducing an additional levy on general waste (due September 2023).
Oblige all waste companies to provide contact details of customers who do not recycle.
—
What does this mean for you, our Customer?
All businesses must have, at a minimum, a three-bin system (similar to at home). This means mixed recycling, organic, and general waste bins at every business. The mixed recycling and compost bins, because they are cheaper than general waste, means the more you recycle, the more you save.
We will communicate any service changes to affected customers over the coming weeks.
In the meantime, if you have any questions or concerns, please contact your account manager or contact us on 1800 24 89 24 or by email to info@citybin.com.
—
The main thing to remember is that we're here to work through these new changes with you.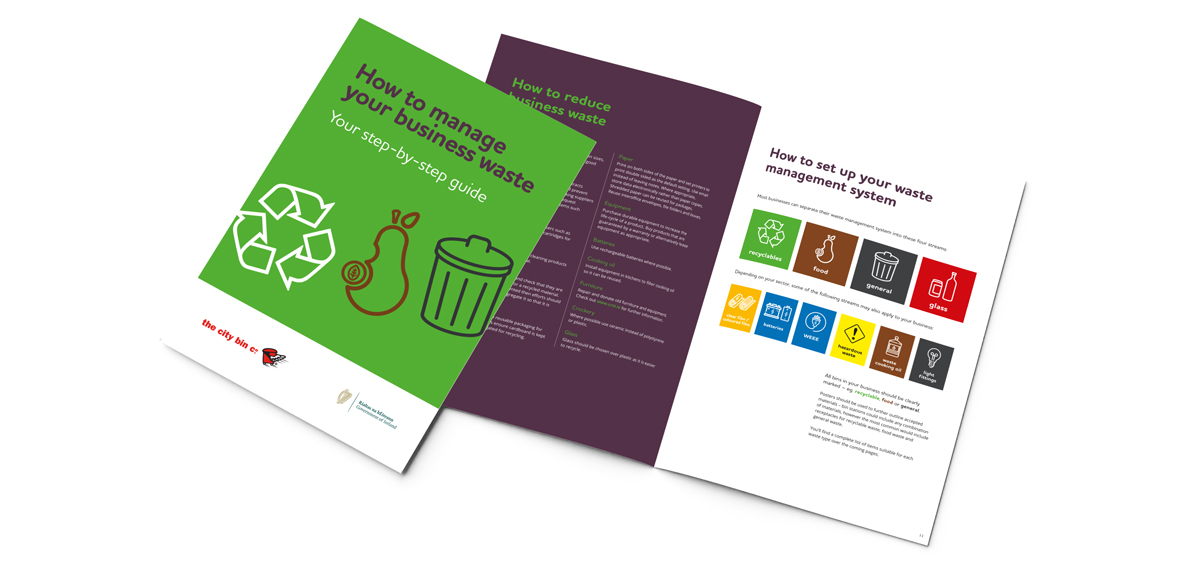 Additional Resources 
We have also included some information and resources to help businesses and workplaces in Ireland improve their waste management practices. It covers waste prevention, waste segregation, and recycling, and suggests simple practices and actions to implement.