Patryk Sosinski joined The City Bin Co. 5 years ago this year. He first joined the company as a member of our waste collection crew in Galway and following an illness in 2017/8, Patryk returned to work in our Recycling Centre in Oranmore where he continues to assist customers on a day-to-day basis. To paraphrase Patryk he set about building his first 3D printer 'out of boredom' while he was at home recovering and during this time he designed and produced replica City Bin Co. model trucks amongst other things.
At the start of the Covid-19 crisis, The City Bin Co. identified a need for face visors to keep our crews safe but we also experienced the huge difficulty in purchasing them on the market. So Patryk suggested the idea of 3D-printing visors, and he immediately set about designing and building one in red – complete with The City Bin Co. logo. We also recognised the opportunity to supply some PPE to those who needed them, so we contacted a number of our customers and arranged to get them some of the visors free of charge.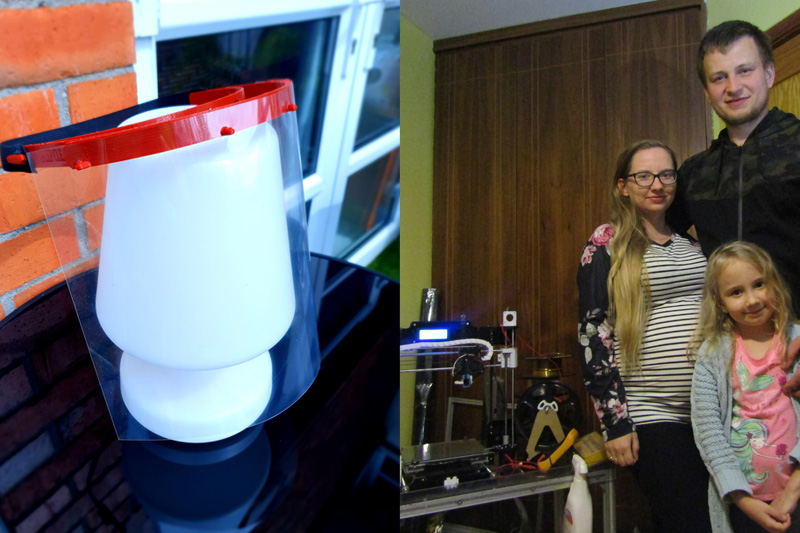 So far, Patryk, alongside his production team consisting of his wife Monika (who has just given birth to baby number two) and their five-year-old daughter Sophia, has produced a number of masks that were delivered to two of our customers – Elmgreen Nursing Home and The Brabazon Trust in Dublin.
Jeff Abbott of our Dublin Sales Team was on hand to deliver the valuable cargo and the recipients had this to say about the donation…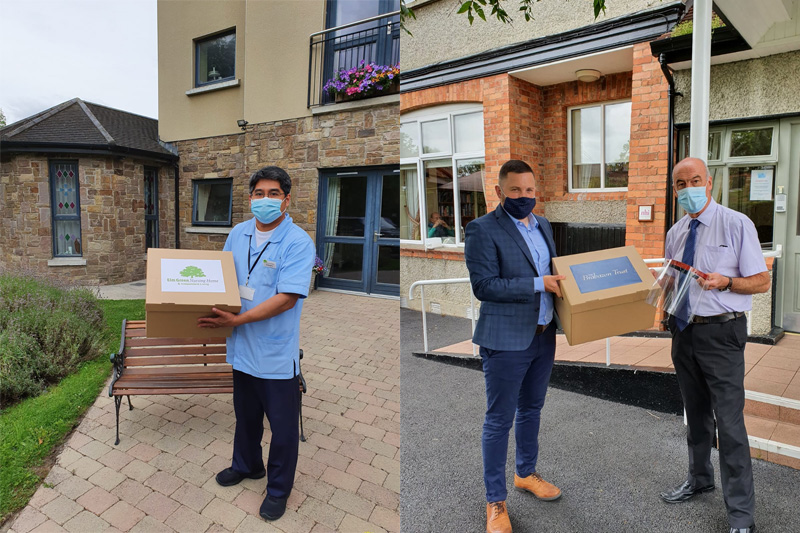 Rodolpho Aguirre – Senior Nurse Manager, Elmgreen Nursing Home. "Thank you so much for the donation of the face guards to our nursing home, we love the design and we intend to give these out to our GPs who visit us and also the physiotherapists. We love that they can also be reusable because of the material. Also thank you to Patryk Sosinski for his kindness".
Ken Davis – Facilities Director, The Brabazon Trust. "On behalf of the Brabazon Trust, I would like to thank you and The City Bin Co. for your kind contribution of face visors which will help to prevent the spread of COVID 19. I also want to especially thank your work colleague Patryk Sosinski for his innovation and motivation in this regard. We will ensure that these visors are put to good use and it is our intention to give them to the visiting relatives and friends of our residents".
The idea that The City Bin Co. can play our part in keeping our customers, and their customers, safe during this pandemic is a fantastic outcome for everyone in the company – but especially Patryk, who we'll leave the last word to…
"Monika and Sophia have been fantastic, while I am at work they follow my exact instructions and at precise times throughout the day they move the components along the printer".
Dziękuję Patryk!