Holland & Barrett Distribution Centre is located in Dublin Airport Logistics Park. It uses its 66,000 sq. feet to stock and distribute all shop items across its 83 stores in The Republic of Ireland.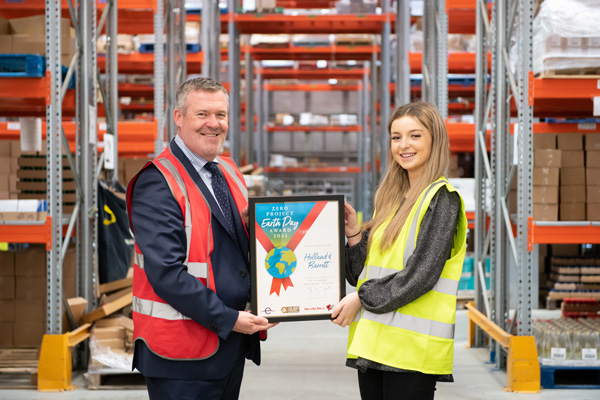 Why start on this sustainability journey?
The journey has been ongoing for the last 6 months and has been consistent in its expectations across learning excellence and Innovation both within stores and the warehouse. The project lead within Holland and Barrett is Sarah Durkan, the EHS compliance officer for ROI and NI. Sarah has also taken the lead with the Holland and Barrett Green Team.
A number of months ago having changed waste contractors to The City Bin Co. Holland and Barrett wanted to examine a greener way of handling waste. Before engaging with The City Bin Co. all waste was simply being treated as landfill.
Holland and Barrett recognised that habits needed to change to make it greener and more sustainable. A lot of initiatives have been successful in the short amount of time since the project commenced.
Some of these initiatives for change were…
No general waste bins on site. A selection of bins are now installed – organic for food, glass for glass, a designated timber only skip for timber and our unique FELfor light industrial waste that is source segregated at a recycling facility.
Cardboard and Plastic balers are now installed and all of the specific waste types are baled accordingly and collected free of charge.
Colour coded bins are now installed in the canteen area for all staff to segregate food waste from recycling. Lunch boxes are used by staff and this has dramatically reduced the amount of tinfoil going into bins.
The Green team have added to the Induction manual for new employees the expectations that Holland and Barrett have for the way individuals new staff members are responsible for their own recycling.
The Green Team have introduced recycling information around the new bins onsite.
Another key initiative here is that when teams do meet recycling is always discussed where appropriate. A key feature in this has been the ordering of new labelling for recycling receptacles at the end of each storage line.
Who was involved in setting up & driving the project?
The project lead is Sarah Durkan.
The results?
All cardboard and plastic generated on-site are 100% recycled.
Food/organic waste collections are up 100% on 2021.
The setting up of the Green Team now has a purpose and the key recycling messages are shared at every opportunity with new and existing team members
All timber onsite is now being source segregated. This new recycling stream is again up 100% on last year
All waste is diverted from landfill.
What next?
The canteen to use only biodegradable materials by end of 2022.
To share the learning of recycling with all stores in the ROI by end of 2022
A quarterly review in conjunction with The City Bin Co. team.
Supplying the employees with their own water and food containers to reduce all non-recycling food coverings by end of 2022.