Classon House is a 4 storey modern office building which extends to 75,000 square feet located in Dundrum Business Park Dublin 14. The building is owned by Corum Origin and managed by Ian Bourke and his team from Knight Frank.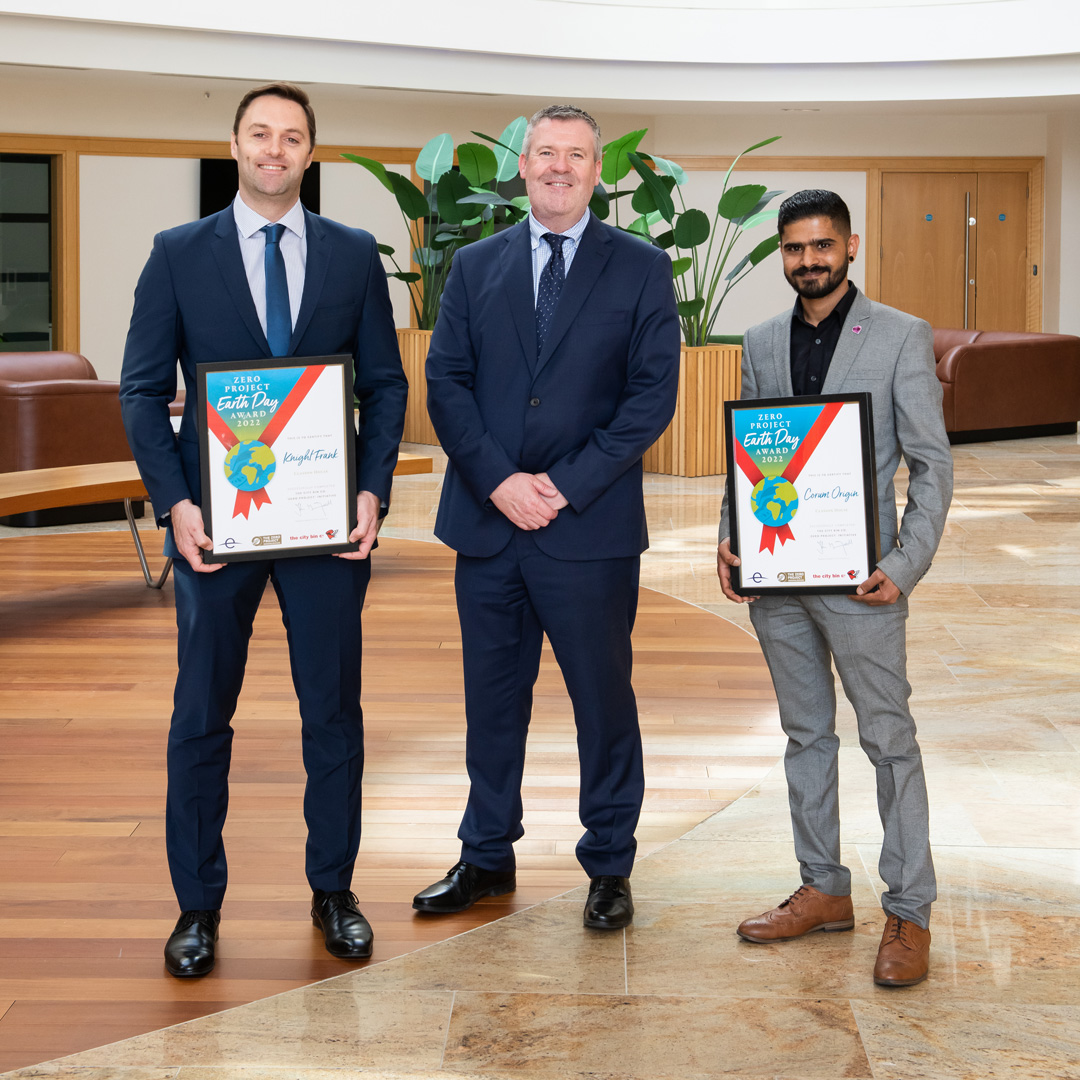 Why start on this sustainability journey?
The journey has been ongoing for the last number of months on this site since Knight Frank decided to try a different approach to waste management on behalf of their tenants to offer a greener way to handle their waste. Before engaging with The City Bin Co. there were a number of different waste contractors onsite. Knight Frank, having worked with John Farrell of The City Bin Co. during Earth Day 2021, wanted to explore the possibilities of creating awareness in-house of a better way to recycle.
Some of these initiatives for change were…
Using one waste provider.
Agreeing to a town hall meeting for all keyholders to discuss how they handle waste and how it could be improved.
Introducing organic bins
Increasing the number of recycling bins.
Introducing glass bins.
The town hall meeting was effectively the Green Team as there was a representative from all businesses onsite.
The Green Team have worked not only on the colour coding of bins internally for the communal bins but has started to use the recycling option in a real way.
Who was involved in setting up & driving the project?
A representative from all keyholders
1. Cartrawler
2. Webbiz Redacre
3. MBSL Accountants
4. John West
5. JB Barry Engineers
6. Varming Engineers
7. Corum Origin Classon House (building owner)
8. Knight Frank Classon House
What was done & by whom?
The town hall meeting was arranged by Pardeep Singh Gill (Building Manager Knight Frank) under the direction of Ian Bourke Knight Frank (Property and Asset Manager).
The results?
All cardboard and plastic generated on-site are 100% recycled.
As food bins are now in play food/organic waste collections are up 200% on last year.
The setting up of the Green Team now has a purpose and the key recycling messages are shared at every opportunity with new and existing team members.
All waste being diverted from landfill.
Recycling initiatives are discussed when the team meets as to how and why they do what they do. More recycling bins are to be put in this month and general waste bins are to be removed.
What next?
No black sacks allowed in bins by Earth Day.
To share the learning of recycling with the Green team for the end of Q2 this year and compare the significant changes on last year.
WEEE waste facility set up for all tenants.
Internal walk-through of each key holder by end of May 2022 to confirm the best use of messaging for internal bins.